How to Make New Friends When Travelling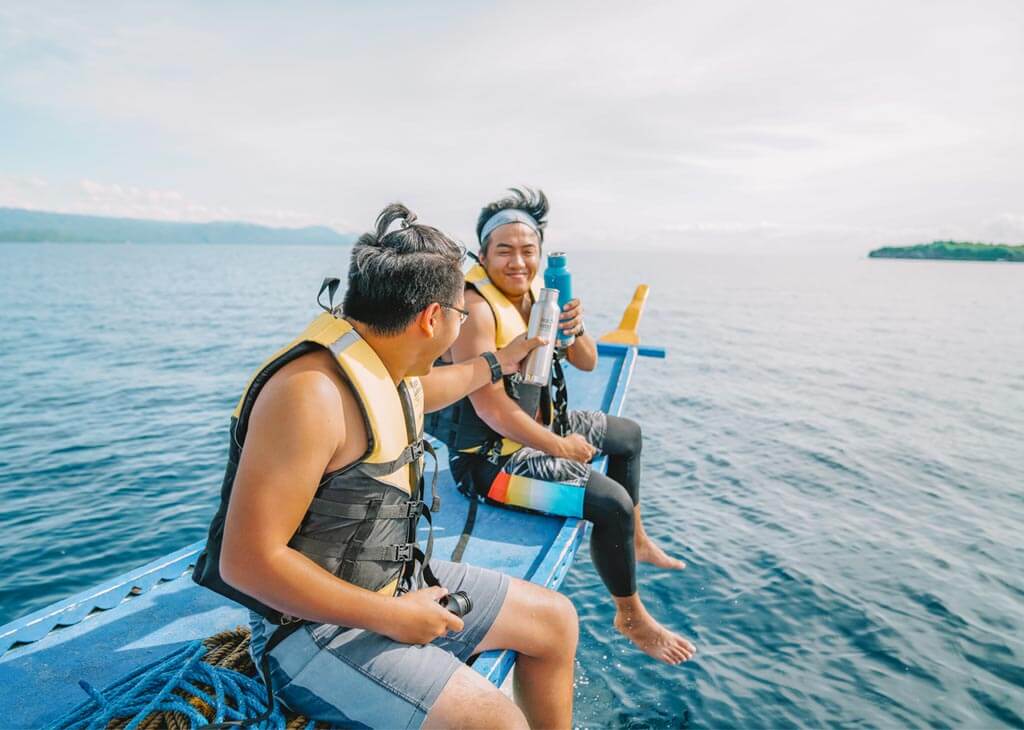 "The very basic core of a man's living spirit is his passion for adventure.
The joy of life comes from our encounters with new experiences"
– Christopher McCandless
The experience of traveling very much includes people, even if you're doing traveling solo. As I get into the bus station, I just realize more and more that people are just everywhere. They are there wherever I go.
The extroverts, who often travel in groups, get off on this sight of a bustling crowd. They hop in the bus with joy. They're so indefatigable that sometimes I envy their energy level. It's always a wonder to me how much energy they possess. Just hyper, to and fro the whole trip.
Meanwhile, the reserved introverts find the mere thought of spending a ride with too many people appalling—not to mention, mostly strangers. In their minds, they're already exhausted before even getting to their destination. To quote Sartre, "Hell is other people." Apparently, for us introverts, four or five is already too many. But hey, we learn how to deal with this thing along the way. We fortify ourselves with earphones. Our favorite songs somehow blur the crowd, or push them into the background.
There are lot of folks, of different colors and cultures. Filipinos are known for their diversity. That's the truth, want it or not. But that's exactly not bad thing. As opposed to Sartre, who is among my favorite writers, heaven can be other people as well.
When thinking of a solo traveler who pushed it to the extreme, I think of Christopher McCandless, who traveled and hitchhiked the American continent, and whose tragic and inspiring life story was shown in the movie Into the Wild.
Even him, as independent and reclusive as he was, talked to strangers on the road, to which his life have had a life-changing impact. He not only enjoyed their company but also struck a deep friendship with them. Unfortunately, Chris's life ended on a depressing note, but his life story gives all of us an important lesson—that friends definitely make our life richer and more meaningful. In fact, three weeks before his death, he noted in a book he was reading when he was there alone in the cold, vast Alaskan mountains:
"Happiness [is] real only when shared."
Apparently, that was inspired by the passage of which the line was noting:
"And so it turned out only a life similar to the life of those around us, merging with it without a ripple, is genuine life, and that an unshared happiness is not happiness." (Boris Pasternak, Dr. Zhivago)
As we travel to different places, we meet a lot of people, in transit, upon arriving and staying. And that's a great thing. How would you feel if you happen to come across a person like Chris? Certainly he's got a lot great tales to share that would inspire you. After all, travelers do have a kindred minds and spirits. And so I've listed here a few tips on how to make new friends when traveling.

First of all, you need to get over the fear of talking with strangers.
In a way, the people you meet along the way are just like you—just as uncomfortable talking with a stranger as you. Once you build up the courage to converse with a stranger, it gets easier. Especially with fellow travelers, they're most likely to appreciate a short talk. Who knows? Perhaps you have the same destination or came from the same school or town. That'll be a great conversation starter.
Learn ways on how to strike a conversation.
We may not like small talks, but at some point in our lives, we get to learn how to do that. This is useful tool when traveling since there are times wherein you really need to ask someone about a certain place. Or bored or feel so alone and afraid being in a faraway place. It's also advisable to at least appear to be with a group while traveling. It's safer. Here are good ways to strike a conversation:
Just greet and smile. Nothing disarms and build rapport better than a smile. But this doesn't mean you have to fake a smile, of course. What I mean is that don't be afraid to smile. Perhaps ask how they are finding the travel so far.
Politely offer to take picture or to offer help if you think it's needed. Though this may uncomfortable, it's nice to help other people. If they decline, that's all right. You can ask first if you're interrupting or if it's all right. If things go well, you may have found yourself a travel buddy or a group of interesting people.
Or simply crack up a joke, if you know how to deliver a punchline. Jokes lighten up the mood. Even a poorly executed joke or bad puns can still make a stranger laugh. For example, "Mao diay traffic ang Carcar sa? Kay double ang car."

Try checking in a hostel.
Many backpackers and solo travelers prefer these. A hostel is a budget-friendly accommodation, and it's truly great for having a shared social experience. It has dorm-type bed rooms which you share with other travelers. It has a shared kitchen and living room and lounges. You get to eat meals with other travelers, and this usually makes way for interesting talks.
Sometimes a hostel's lounge has a billiard table, board games, a guitar, and a shelf full of books, and a bar. A hostel definitely offers a far better interactive experience compared to hotels or inns. Plus talking with fellow travelers is like having free travel guides since some may be familiar with the place.

Try availing group tour packages with fellow travelers.
This does not only save your pocket from spending a lot, but it also saves you the trouble of asking amongst your friends who's up for a tour. Sometimes you even persuade your friends to join only to be declined. You are not alone on that. Many travelers face that problem, across the world, in fact. That's why they'll be more than happy go on a package tour with you. This is a great chance to meet different people and make friends. You'll be surprise with how wonderful it will all be.
Being able to travel is gift. Making friends as you travel to places is just one way of sharing this gift and this happiness of traveling. So good luck and take care!